Computer networking is not as easy as plugging in a few computers and turning them on. In order for your computer network to be efficient, effective and safe; proper configuration, installation and maintenance is critical!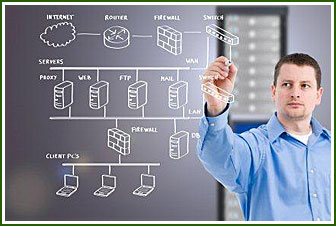 Since 1990 Boston TechWare has specialized in the design, installation, administration and support of computer networks for small businesses in a wide variety of industries across Southern California.
As a Microsoft Certified Partner, our quality services and streamlined processes have allowed us to assist our clients in utilizing their I.T. budgets strategically in order to develop computer networks that are extremely fast, safe, secure and reliable.
Our highly qualified staff of networking specialist is continuously trained in today's evolving standards, platforms and technologies. Their technical expertise and dedication to quality has enabled small businesses to leverage the strategic, tactical and financial benefits of outsourcing their most demanding networking initiatives to Boston TechWare. Our team works hard every day to keep clients' networks functioning at the highest levels possible so that our clients can focus on their businesses without worrying about their networks.
No matter what your computer networking needs are, Boston TechWare is ready, willing and able to partner with you!
YOUR SATISFACTION IS OUR GUARANTEE!
Servicing Los Angeles, Orange, Riverside, San Bernardino, and Ventura Counties.
Boston TechWare ~ 2846 Champion Street, Chino Hills, CA 91709 ~ 909.606.2834